Security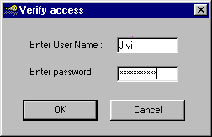 All tables in database are store in one password protected Access MDB, protecting the data/tables against unauthorized modifications.
Backup and Recovery utilities
Different user access levels, allowing specific users to access only parts of the database.
Audit Trail monitors critical modifications, logging date, time, user name and details of modification made.